Undergraduate Womxn in Economics Society
The Undergraduate Womxn in Economics Society provides an empowering and encouraging space for undergraduate economics majors committed to equal representation in the field to meet, collaborate, network, and deepen their understanding and appreciation of the field.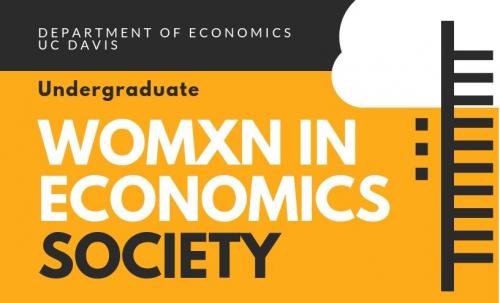 ABOUT
As seen in many traditional STEM majors, womxn are underrepresented in the Economics program at UC Davis. Although womxn make up the majority of the undergraduate population at UCDavis (59%), only 37% of declared Economics students are womxn. This number is only slightly higher than the national trend of gender imbalance where on average only 26% of womxn major in Economics.
The Womxn in Economics Society exists to promote diversity in the field of Economics, and to foster opportunities for camaraderie and mentorship among economics undergraduate students, graduate students, faculty, and alumni. We welcome all economics majors to join our organization. All that is required to be considered for membership is to be a declared economics major and a commitment to equal representation within the field.
Members of the organization will participate in a quarterly series of seminars, discussions, and potential field trips focused on life after graduation. The program will also highlight the research done by womxn economics faculty and encourage members to explore involvement in research and quantitative skill-building. A culminating event in Spring will also connect students with Economics alumni in order to promote career exploration, networking, and professional development.
EXPECTED COMMITMENT
Each quarter, members must attend all meetings and are encouraged to attend at least one faculty office hours.
GROUP MEETINGS
 The group will meet in-person on select Wednesdays from 12:00-1:00pm.
Three seminar speakers will be available each quarter with at least one faculty member and one graduate student presenting each quarter.
QUALIFICATIONS
Must be a declared Economics major
Committed to equal representation in the field of economics
TO APPLY
We've opened the Winter 2023 applications for the Womxn in Economics Society. You must be economics major who is dedicated to the equal representation in the field to apply for the Winter Womxn in Economics Society.  The application is now open through January 2, 2023.
To participate in the program, you are required to submit an application and commit to attending all meetings.
For questions, please contact: